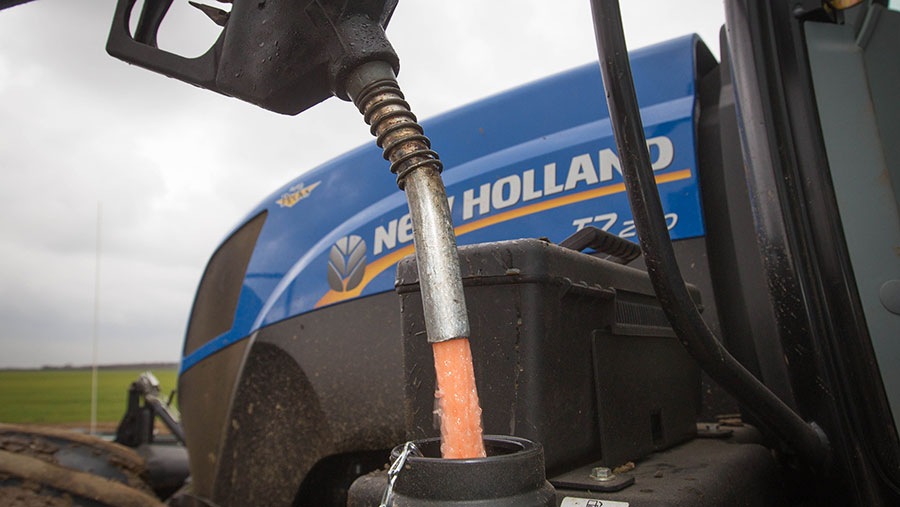 Farmers have reacted with fury and astonishment to fresh reports that the chancellor is considering scrapping the lower rate of fuel duty on red diesel.
Rishi Sunak is reportedly planning to end the 11.1p/litre duty rate and charge users the full 57.7p/litre fuel tax at next week's Budget, according to reports in today's Financial Times.
If implemented, average farm diesel prices would rise to more than 98p/litre – an almost 50% rise in the cost of fuel – and would exceed £1/litre if oil prices return to January levels.
'Absolutely crucial'
NFU president Minette Batters said: "Red diesel is the primary fuel to run the majority of agricultural vehicles, and is absolutely crucial to farm businesses and to maintaining food production.
"The lower fuel duty on red diesel recognises this fact and, with such uncertainty and rising input costs, it is absolutely essential that the red diesel exemption is maintained.
"Changes to this duty [would] make us immediately uncompetitive with many countries, including EU member states, the US and Canada, which all provide their agricultural sectors with a lower fuel duty on red diesel.
"Removing this from British farmers would leave them at an immediate competitive disadvantage, coming at a time when farmers are already dealing with ongoing uncertainty over our future trading relationship with the EU and rest of the world."
Establishment and harvest fuel costs doubled
Lincolnshire arable farmer Andrew Ward said if implemented, the changes would see his winter wheat establishment and harvest fuel costs rise from the current level of about £44/ha to £83/ha.
He uses an average of 44 litres/ha to cultivate and drill and a further 22 litres/ha to combine. Two tractors and trailers contribute a further 9 litres/ha each.
"It really just dumbfounds me," he said. "Does this government actually want an agricultural industry in the UK?"
He said farmers already felt like they were under a multi-pronged attack at the moment with the weather and forthcoming subsidy cuts, making additional hardship through fuel duty hikes or changes to inheritance tax reliefs particularly worrying.
Source: Farmers Weekly
https://www.fwi.co.uk/business/markets-and-trends/input-prices/fury-over-chancellors-plans-to-scrap-red-diesel-duty-rate