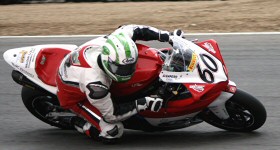 Louth Superbike rider Peter Hickman has secured backing for the final two rounds of the British Superbike championship from Nolan Fuel Oils of Middleton Stoney near Bicester who are to be the title sponsors at Silverstone and Oulton Park for the Northamptonshire based Ultimate Racing team.
Mark Nolan commented: "Nolan Oils are pleased to be title sponsor for Peter Hickman of Ultimate Racing and the team for the last two rounds of BSB. It has been a difficult year for Hicky. We know he is a very capable rider but has had some bad luck with his bike this season. We are looking forward to the last two rounds and hope to see some good racing."
Hicky aged 23, whose parents live in Willoughby near Alford is relived he now has the backing to be able to contest the final two rounds of the series and is adamant he can pull some good results out of the bag in the penultimate round of the championship at Silverstone this coming weekend.
"I am really grateful to Nolan Fuel Oils for their support. Without them we would have struggled to get the money together for fuel and tyres for the last two rounds. But now at least we don't have that to worry about and we can concentrate on bike preparation and hopefully scoring some good results so we can end the season on a high.
"It has been a struggle all year really but we have made it to the end of the season and I am optimistic we can progress further next year."
Free practice and qualifying take place on Friday and Saturday at Silverstone with two 14-lap races on Sunday, race one at 1.35pm followed by the second leg at 4.35pm.
Picture: Helen Pask