Fuels and Lubricants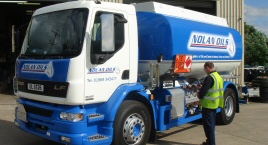 The Nolan family have been serving the needs of fuel oil consumers in the South Midlands for over 30 years.
Prompt delivery service . . .
Nolan Oils operate a 2/3 day delivery service. However, should you run out of oil we can offer same or next day delivery.*
Very competitive prices . . .
Nolan Oils carefully monitors the price of oil and as an independent supplier, we are able to offer the most competitive prices.
Flexible Payment Plans . . .
We offer various payment terms to suit your requirements.
Online Ordering . . .
Orders can be made on-line or left on our answering machine at any time.
Oil Tanks
Nolan Tank Services, a Nolan Oils subsidiary, are distributors and installers of plastic oil tanks. These tanks, from the market leaders, are manufactured to the highest British Standards and are available in a wide variety of shapes and sizes to suit all applications.
We can replace your existing oil tank or supply a tank for a new oil fired installation with the minimum of fuss and cost. Leakage and Spillages can have serious consequences, so you need to ensure your oil storage is:
Safe
Easy access for delivery at ground level.
Secure
No leakage and spillage.
Maintenance Free
No painting or de-sludging.
* Or same day if you call before 12 noon. Available for regular customers, excluding weekends and subject to stock availability, upon request.