Oil prices have been at a 12 year low but are creeping back up!
Have you checked your tank?
Fuels and Lubricants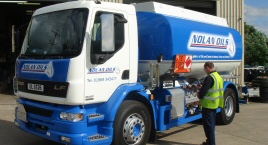 The Nolan family have been serving the needs of fuel oil consumers in the South Midlands for over 30 years.
Prompt delivery service . . .
Standard delivery is 2-3 days, however if you have run out of oil, we offer same day or next day delivery. (Subject to stock availability)*
» more details
Very competitive prices . . .
Nolan Oils carefully monitors the price of oil and as an independent supplier, we are able to offer the most competitive prices.
Flexible Payment Plans . . .
Spread the cost of your heating oil by paying by monthly standing order.
Online Ordering . . .
Orders and payments can be made online.
Oil Tanks
Nolan Tank Services, a Nolan Oils subsidiary, are distributors and installers of plastic oil tanks. These tanks, from the market leaders, are manufactured to the highest British Standards and are available in a wide variety of shapes and sizes to suit all applications.
We can replace your existing oil tank or supply a tank for a new oil fired installation with the minimum of fuss and cost. Leakage and Spillages can have serious consequences, so you need to ensure your oil storage is:
Safe
Easy access for delivery at ground level.
Secure
No leakage and spillage.
Maintenance Free
No painting or de-sludging.
Nolan Oils offer guaranteed next day delivery for our regular customers or same day if you should call before 12 noon and have run out of oil! Excluding weekends and subject to stock availability and workload. We will always try our very best to help you should you have run out of oil.